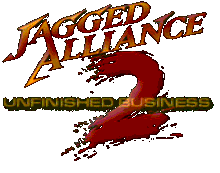 This page was last updated on May 22, 2001
---
News:
5-23-2001 A NEW GAME!!! Check it out at WWIIOnline.com Its a massively multiplayer online game! Basically Everquest but World War 2, with tanks, planes, troops, artillery, navy, all rolled into one. I highly suggest checking it out. Or go to the WWIIOnline HQ.
---
Screenshots Merc's Weapons Savegames Links FAQ Downloads Unfinished Business
---
Welcome to the Jagged Alliance 2 HQ. Most of whats here you have probably seen, across the internet, but hey we all can look can't we?
If you are looking for a web board to post about JA2, try out TerraVirtua's Forum (which is down, soon to be back up though!). My Alias is "Just another JA Freak", drop me a line if you see me.
Also if you want the Latest news for JA2 Check out Talonsofts homepage for updates and a message board.
Dont know what JA2 is? Check out ja2.com
---
Comment, Complaint, Suggestion? Drop me a line at trekkie1@myownemail.com
Jagged Alliance, Jagged Alliance Deadly Games, and Jagged Alliance 2, are all registered trademaks of Sir-tech Canada. "Just another JA Freak" is my trademark, wtf? Why are you reading this? :)

FastCounter by bCentral


FastCounter by LinkExchange
Mercs have visited this site since May 1, 1999.